In our previous blog, we discussed a new way of evaluating the success of thought leadership in a post-corona world. Today, we'll take a deeper look at how different types of content add particular value to your business.
Thought Leadership Network (TLN) identifies three categories of thought leadership: Reimagine, Renovate and Reinforce. Each will have a role to play for different businesses in the post-pandemic environment.
Many businesses will need to re-imagine their proposition and so pivot to a new reality. Others will want to renovate by building on historic success or reinforce their commitment to delivering excellence.
Each of these approaches has a different set of important metrics: reimagine campaigns are focused on brand building while reinforcement relies more closely on sales metrics. Reimagine campaigns are driven by originality, so can expect to perform relatively poorly on search but highly on social. By contrast, a reinforcement campaign has less original content and would likely perform highly on search but less strongly on social.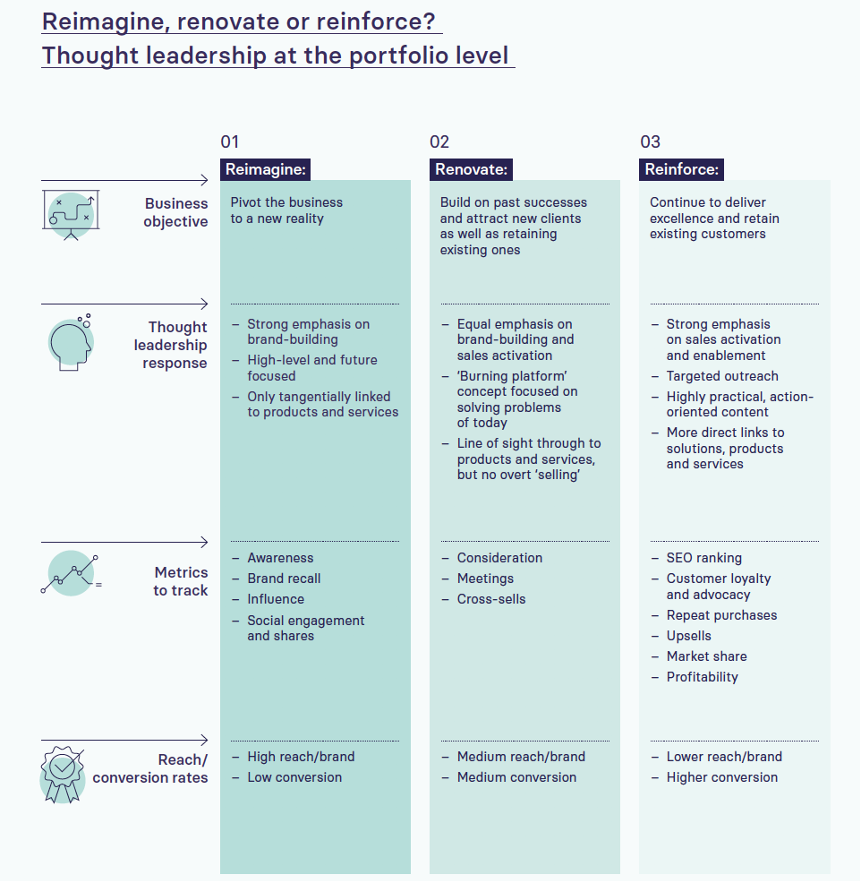 Building a holistic approach
Ultimately, TLN are keen to ensure that sufficient attention is paid to thought leadership's longer-term brand and reputation-building effects, relative to sales activation. To this end, they advise that content exposure questions should be included in brand tracking surveys so that it is clear which respondents encountered a brand's thought leadership content. This will allow a clear read of the content's effect on brand metrics, including perceptions of the brand's expertise.
TLN also advise businesses to build KPI layers which combine a variety of data. This could mean gathering a range of evidence and proof points over a longer timeframe, qualitative and anecdotal feedback, demonstrations of how thought leadership interacts with other marketing touchpoints and thinking beyond the simplest available metrics.
For any business looking to develop their thought leadership positioning and content in a post-corona operating landscape, this report is an excellent place to start.